Massey Ferguson Tractors for Sale in South Africa
---
Model / Type: Massey Ferguson MF 240 Horse Power: 50hp Transmission: Manual Engine: 2.5D Condition: Brand New

Read more
Farm Tractors
Why Massey Ferguson Tractors ?
Tractors are an integral part of the agriculture industry in South Africa. As modern agriculture is growing exceptionally, so is the number of tractor companies. All tractor brands promise to be the best ones out there. However, there is one tractor brand that is a clear winner in the hearts of African farmers, and that is Massey Ferguson. Most African farmers cannot picture a mechanised farm without a Massey Ferguson tractor in it. And the reason behind this is the company's undying devotion to quality and performance.
Massey Ferguson Tractors for Sale in South Africa
We assure you that a brand new Massey Ferguson tractor will prove to be your best investment as it will last you decades if you maintain it right. Our tractor dealer in South Africa follows up on after-sales services, which means you will not be left alone or clueless in your mechanisation journey. Whenever you encounter a problem with your tractor, all you have to do is get in touch with our customer-service representatives who will make sure that your tractor runs flawlessly. Our long-lasting compact tractors are bestsellers worldwide.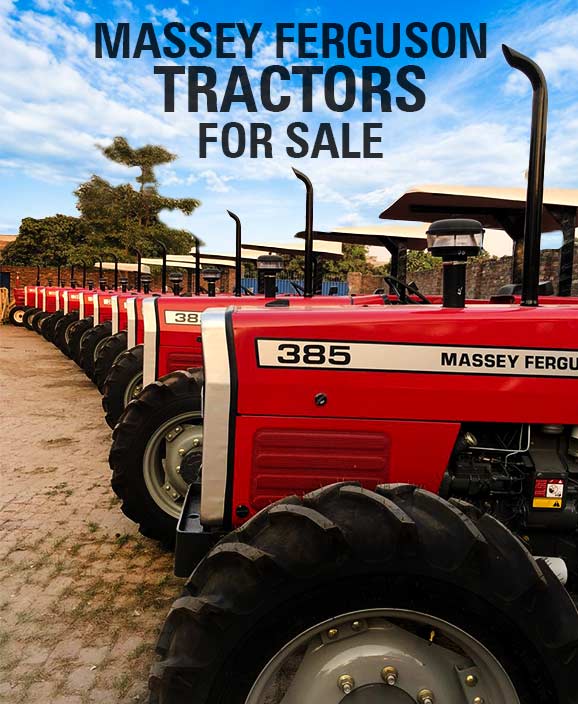 Farm Implements for Sale in South Africa
Farm Implements for Sale in South Africa
---
Bed shape Planter Specification FRAME: 50X50X6M BOX HITCH: 75X36X6MM LENGTH: 1520MM HEIGHT: 2240MM WIDTH: 2240MM APPROX WEIGHT: 470KGS

Read more

Disc Plough Specification Available from 2-5 discs WEIGHT 550 WORKING WIDHTH 990MM WORKING DEPTH 250MM HEIGHT 1235MMh LENGTH 2130MM POWER REQUIRE 85HP ONWARDS

Read more

Specifications Power Dozer to fit MF 240, 350 Plus, 260, 360, 375, 385 tractors Blade Model MT-08/1=6′ * 22″ -(Single ram) Model MT-08/2=6.5′ * 30″ (Twin ram)  

Read more

Rear Blade Specification Width: 5' – 12' Length: 5ft with wheel 1/2" Reversible/replaceable cutting edge.

Read more

Specifications No of Cutter 104-128 Height with Wheels 6' Length of Drum 4.5' – 5.5' PTO Speed 540RPM Fuel Consumption 7-7.5l/hr Tractor compatibility 50 HP and above

Read more
MODERN FARMING TOOLS
Tractor Implements for Sale in South Africa
Our huge variety of farm implements in South Africa are the talk of the town due to their impressive performance. Our Massey Ferguson farm implements for sale are some of the best out there as they enhance the efficacy of work and make it more productive.
In today's world of modern farming, farmers rely on progressively sophisticated equipment which multiplies their yields so that they are able to provide for more families. Most of the time, manpower fails to handle all the work being done, as it is not only time-consuming and hard, but can also result in huge losses. This is when agricultural machinery comes to the rescue. Investing in our contemporary farm implements will not only help you get the work done, but will also allow for faster working and higher yields. So, give us a call to mechanise your farm today and change your life for the better.
Testimonials
Testimonials
---
Bought a Massey Ferguson tractor a few weeks ago. Thank You Massey Ferguson South Africa! Truly great service! Very Friendly and professional and just good people. Even a follow-up after delivery to find out if I was satisfied.

Pieter Naidoo

Creative Heads Inc
Received my Massey Ferguson 385 tractor today and I am so happy. Thank you Massey Ferguson South Africa for the great service you guys provide for your clients and for staying in touch with me. You guys rock!!!

Shameer Khan

Creative Heads Inc
I am a farmer in the Western Cape and was very skeptical about buying a Massey Ferguson tractor at an affordable price. The whole experience was good. I highly recommend Massey Ferguson South Africa to farmers and dealers.

Clement Berriman

CTO - C Company